With an extensive background in ZBrush and a career spanning decades, Madeleine Scott-Spencer has undeniably made a lasting impact on the creative industries. Her resumé is impressive indeed; she's created toys and collectibles, created digital maquettes for concept design, and contributed extensively to visual effects – all at well-known studios like Weta, DNEG, Pixologic, Gentle Giant Studios, Activision, and Hasbro. Her credits list is just as impressive, listing films like The Hobbit trilogy, Rise of the Planet of the Apes, Life, Wonder Woman, and Valerian.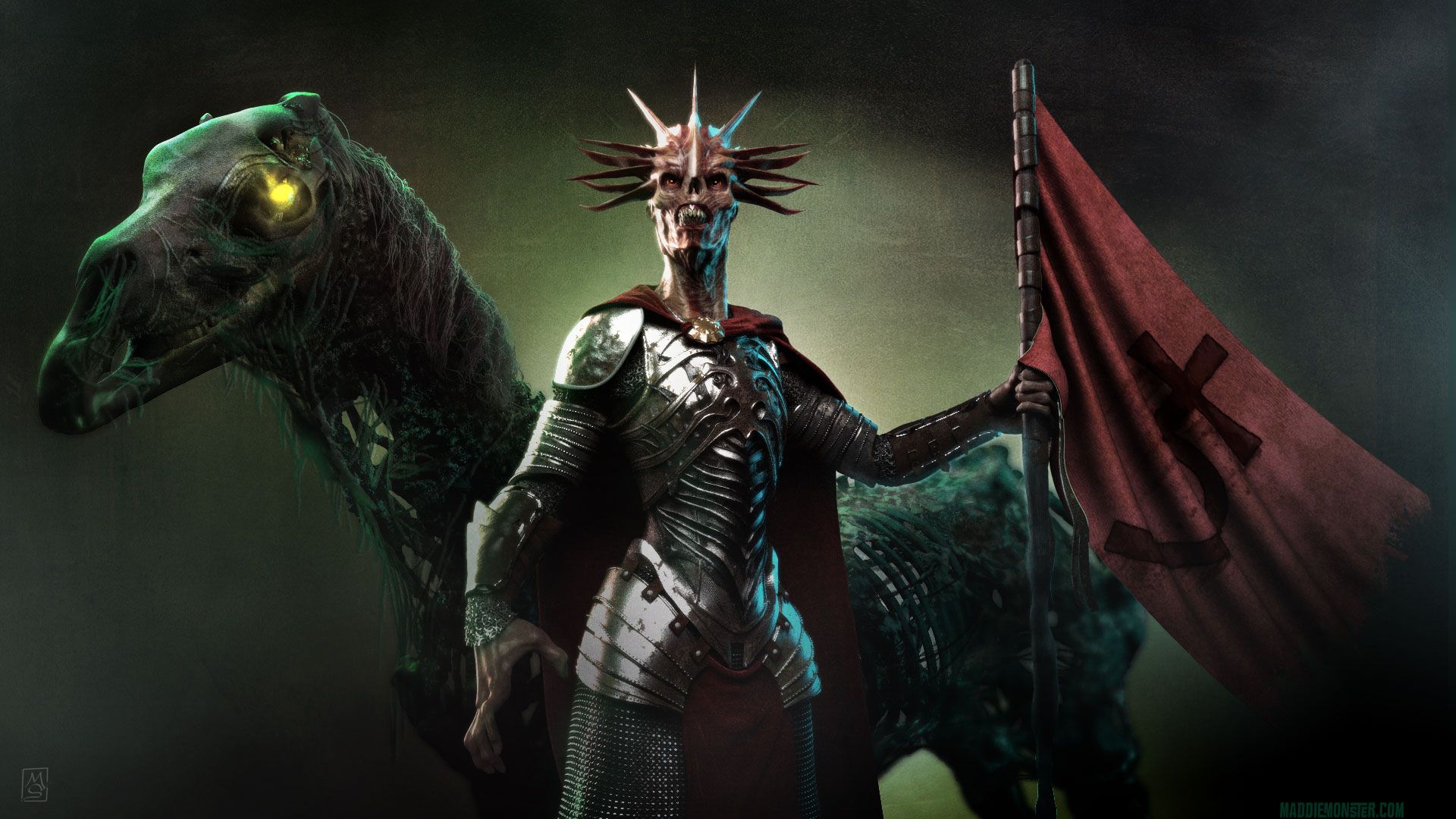 Madeleine's passion for creating monsters and teaching others how to do so has made her one of the most sought-after instructors at The Gnomon Workshop. Since 2006, she has shared her profound ZBrush knowledge with budding artists worldwide, producing an extensive array of video tutorials and manuals. Madeleine has further enriched her contributions to the ZBrush community with her authorship of several books, including ZBrush Character Creation: Advanced Digital Sculpting, ZBrush Creature Design, and ZBrush Digital Sculpting: Human Anatomy.
In this interview, we speak with Madeleine about her journey as an artist, the inspirations that have shaped her unique style, and her invaluable tips for both beginners and seasoned ZBrush users. This Q&A is a must-read for anyone interested in watching Madeleine's Introduction to ZBrush workshops at The Gnomon Workshop!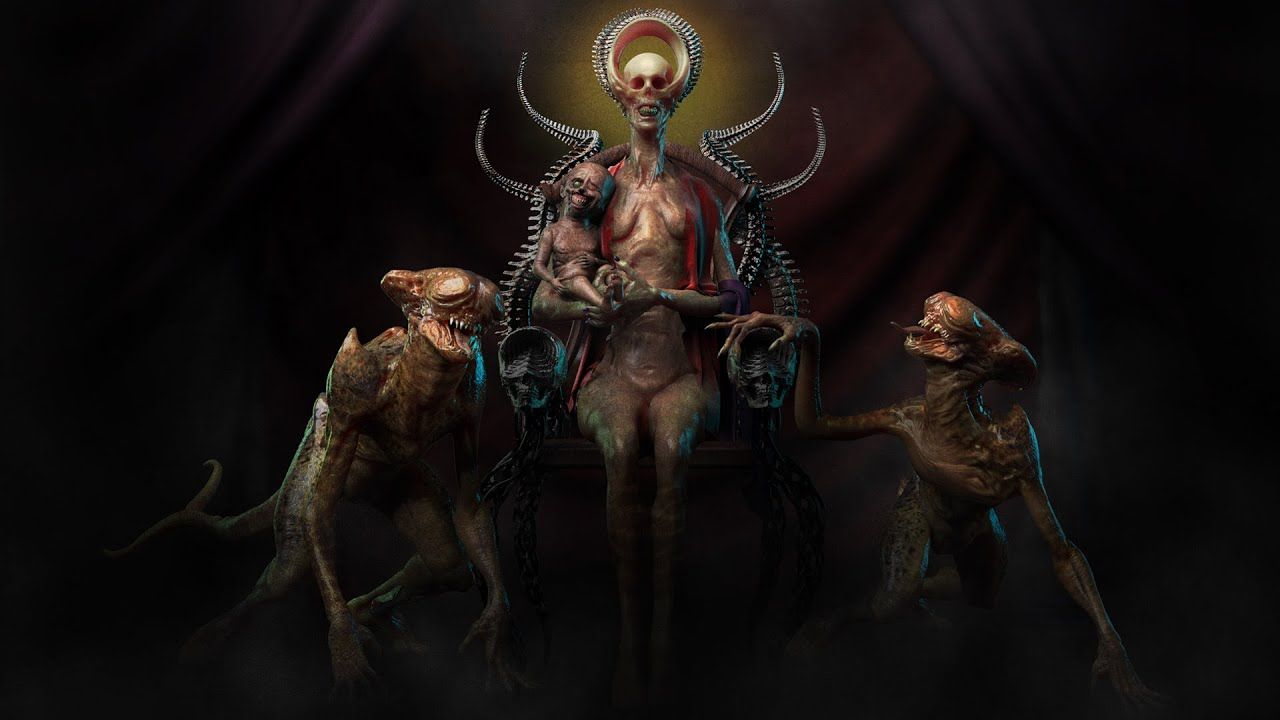 "My goal ... is to take a beginner ZBrush user to the level of a confident intermediate user with experience in the sculpting, painting, and utility tools in ZBrush for organic, hard surface sculpting, and everything in between"
— Madeleine Scott-Spencer, Gnomon Workshop Instructor
What made you first want to become an artist?
I have only ever wanted to be an artist! Specifically, I recall being little and wanting to make monsters for movies. I think I first became aware that it was a career after watching specials on HBO about "movie magic" for flicks like Poltergeist, Willow, and Star Wars. I also grew up on books and magazines like Fangoria, Dick Smith's Do-It-Yourself Monster Make-Up, and Tom Savini's Grande Illusions. I was hooked from a young age!
What draws you to monsters and the spookier side of creativity? 👹
I've always loved monsters and felt like they were my friends. I felt comfort and happiness around spooky things as a kid, and I only ever wanted to make monsters for a living. Telling people I wanted to be a monster maker when I grew up was a hard sell in 1985!
What are some of your favorite projects you've worked on over the years?
I have a soft spot for my first on-screen monster: a dead giant spider for the film 8 Legged Freaks. I am also very proud of my work on The Witcher Season 2 and some upcoming monsters I can't discuss yet!
How did you get from there to where you are today?
I worked as a Make-up Effects Sculptor in the film industry from 1998 until 2002. I worked for an artist in Atlanta, Georgia named Bill "Splat" Johnson. Bill was educated at Georgia State University in the art program, and over the years working for him, I noticed he had a whole vocabulary around color, shape, design, and form, which he learned in school and assisted him in doing top-quality work.
Bill inspired me to seek out a formal studio education. I decided to attend SCAD (The Savannah College of Art and Design, Georgia) and studied animation with minors in drawing and art history. I managed to customize my degree by taking courses in industrial design, illustration, sequential art, and animation to essentially make my own concept art/art direction degree.
I wasn't all that keen on Maya and 3D modeling at the time, as it was still the age of NURBS and box modeling. I did all my work in stop-motion animation. I was about to change majors when ZBrush 1.5b came out and changed everything! Finally, 3D was like sculpting in clay, and painting felt like painting with an airbrush. I took off with this new tool and did my finals in it. I started making tutorial videos (pre-YouTube!) and uploading them to forums.
I graduated from SCAD in 2005. I moved to a brief program at the Florence Academy of Art in Italy, where I studied Classical Realist figure sculpting. I was tempted to remain for the entire program at the school but ultimately decided to return to LA and start a new phase of my career.
Over the years, I continued to develop, as art is a journey, not a destination. I did 50 hours of cadaver lab studies at the University of Utah medical school and Lake Merrit Medical School in Oakland. I thrive in a classroom environment, and I still enjoy taking classes to this day!
What is it that you love the most about ZBrush? What draws you to this software specifically?
ZBrush is so very much a sculpting and painting tool that I was able to bring all I knew about clay and paint into ZBrush. The software behaves like real-world materials while also offering unique new digital workflows. I love teaching ZBrush to physical effects artists because they also instantly see how their knowledge and experience in clay translates directly into the software!
ZBrush is just the most unique tool – it remains cutting-edge and zeitgeist-changing while being fundamentally friendly to the traditional approaches of sculpting and painting.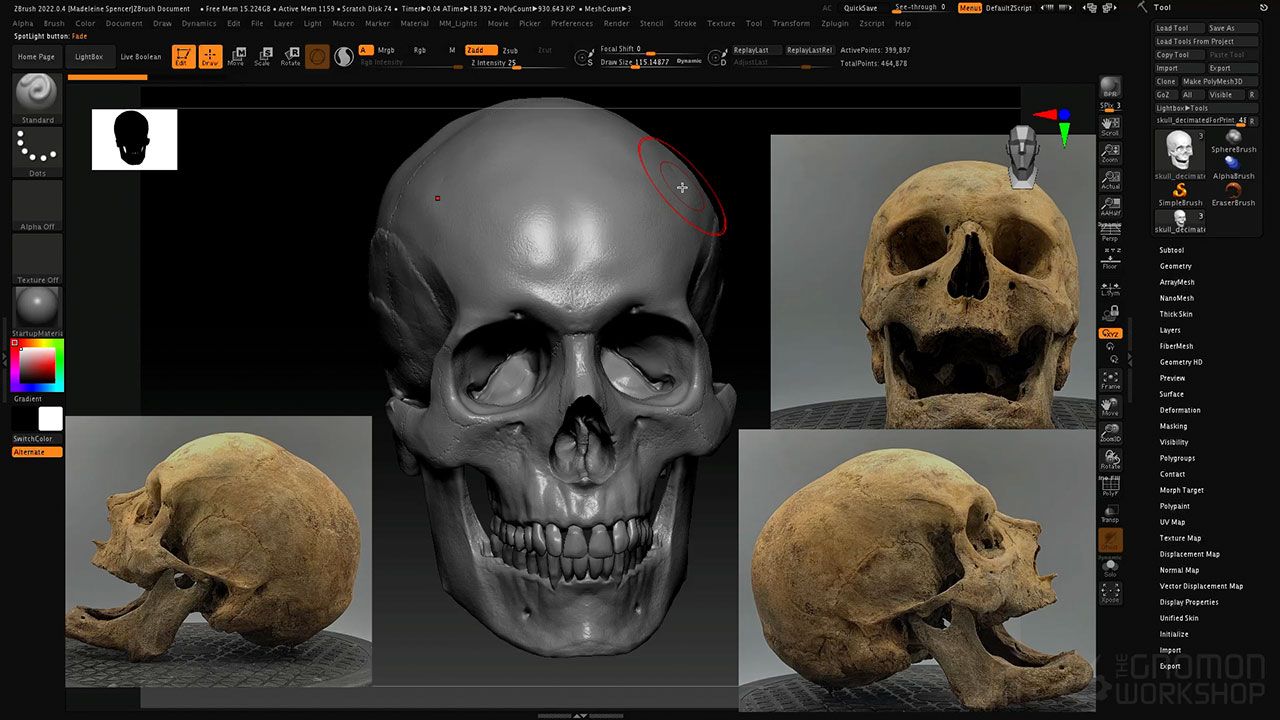 What are the main tips you'd give someone just starting out with ZBrush and tips you'd give to a seasoned artist?

For beginners:
Limit yourself to just five brushes. When you have too many things to choose from, you can get option paralysis. I always suggest Move, Standard, Inflate, ClayTubes, and DamStandard as my go-to brushes.
Move your light around your model and use the basicMaterial 2, not any MatCaps. I suggest this because the basicMaterial2 will show you the surface far more accurately as it has shadow, mid-tone, and highlight, which change as you move the lights – this is so important for seeing and creating good form, and the most important thing about any sculpture is form form form! Anyone who has taken my Gnomon classes or watched my Workshops knows how critical I consider the subtlety of shape and surface.
Use masking! You cannot create complex shape changes on the surface without isolating some areas with a mask. Lips, for example, require an artist to contrast soft, round, fleshy forms against sharp lines and angles. Masking is the only way to accomplish this. Failure to use masks can contribute to the soft, lumpy look beginners often get in ZBrush.

For seasoned pros:
Instead of using the Smooth brush, try what I do: use the trimDynamic brush to knock backplanes in your forms, then use the same brush to break those planes into smaller planes. Repeat this with smaller breakups, and you end up with an organic form that maintains a sense of structure beneath the skin. After that, I do light smoothing. I find the Smooth brush on its own too destructive. It's like using turps on an oil clay sculpture instead of refining the surface with increasingly finer rakes.

What advice would you give to artists who want to achieve a similar level of success as yourself?
Just keep learning and stay passionate. Art is a journey, and the reward is making each thing better than the last thing you did. I am reminded of the quote, "Art is long, and time is fleeting," by Henry Wadsworth Longfellow. Go make things and have fun! Success will follow, proportional to your drive and desire.
What are you currently working on that you're enjoying?
Once this releases, you will have seen Black Panther: Wakanda Forever in theatres and Ant-Man: Quantumania. We also have a big creature show in the works, but I can't be more specific about that yet!
💡
Learn with Madeleine: Introduction to ZBrush Workshop
Madeleine has shared her sculpting skills in multiple Gnomon Workshops over the years. She tells us what artists can expect to learn in her
latest versions
.
"I'm passionate about teaching (I've been teaching for Gnomon since 2006), and it's imperative to me to effectively communicate with artists who want to learn more. My goal with these Workshops is to take a beginner ZBrush user to the level of a confident intermediate user with experience in the sculpting, painting, and utility tools in ZBrush for organic, hard surface sculpting, and everything in between. I also want more experienced viewers to benefit from my workflows and approaches to sculpting, anatomy, and painting.
"My Intro to ZBrush 2022 dives into newer tools like Stager, one of my favorite new additions to the software. I also redo the entire workshop, so you see entirely new demos for all the tools and techniques, including the quickstart, sculpting, and other demos."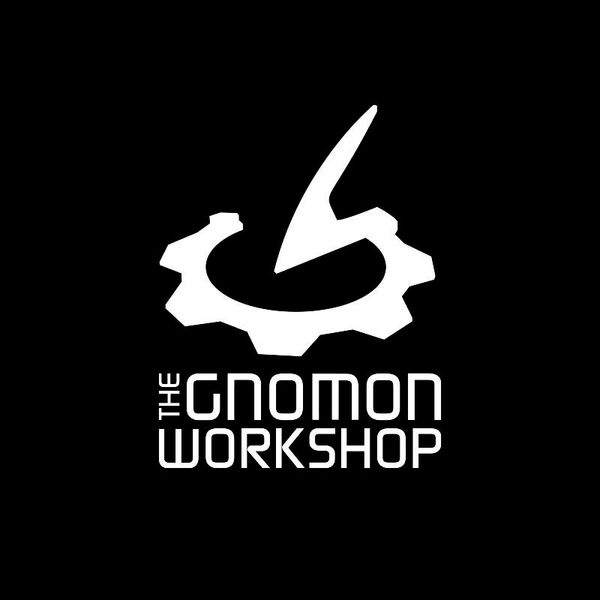 The Gnomon Workshop, the industry leader in professional training for artists in the entertainment industry.
follow me :